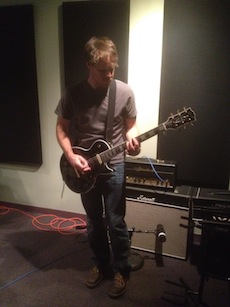 Artist Drowning is an alternative, indie rock band/person/project/thing from Boulder, Colorado. Fronted by guitarist-singer-songwriter Christopher S. Martin, Artist Drowning's music is marked by a raw, visceral sound, with intense lyrics, loud amps and raucous drums.
Artist Drowning's debut studio album, Driving Home In Reverse, was released on November 11, 2013, by indie label, Falcon Lounge Records. The album is an autobiographical journey portraying Chris' struggle through two life-changing tragedies. First, the death of a close friend, who was killed in a freak train accident when they were nineteen. And again, fifteen years later when his mom was diagnosed with terminal cancer. The nineteen track double album follows Chris as he works through the pain and frustration of loss, and finds himself forced to come to terms with his own mortality.
Originally intended as a companion/soundtrack to Chris' memoir of the same name (see excerpt here), Driving Home In Reverse was ultimately released as a stand-alone concept album, with publication of the book on hold indefinitely.
Chris is joined on the album by Mike Gulizia (Albany Beef) on guitars/bass, and Michael Brien (Clumsy, The Clowns, Zane Grey) on drums.
Driving Home In Reverse was produced by Chris, his wife, Sherrill, Mike, and Michael. It was recorded at Coupe Studios (The Fray, Rose Hill Drive) over a 15 month period between December 2011 - February 2013, and mixed by Sean O'Keefe (Fall Out Boy, Plain White T's, Less Than Jake).
Artist Drowning is currently working on several follow-up projects: An eleven track album of songs written during the making of Driving Home In Reverse, a five song EP based on poems by Michael, and another full length LP chronicling Chris' solo adventure at the 2013 Riot Fest in Byers, Colorado.
Stay tuned and beware . . . No lifeguard on duty!